In January 2016, almost thirty male asylum seekers from Sudan move into a residential container park on the former festival ground at Brunsroder Straße in Essenrode as new citizens.
The municipality takes care of their accommodation. The young Sudanese men receive a minimum of basic care from the social welfare office every month and are responsible for their own food. The community of Lehre is working at the edge of what is possible, both financially and in terms of personnel. For this reason, the citizens' association, together with dozens of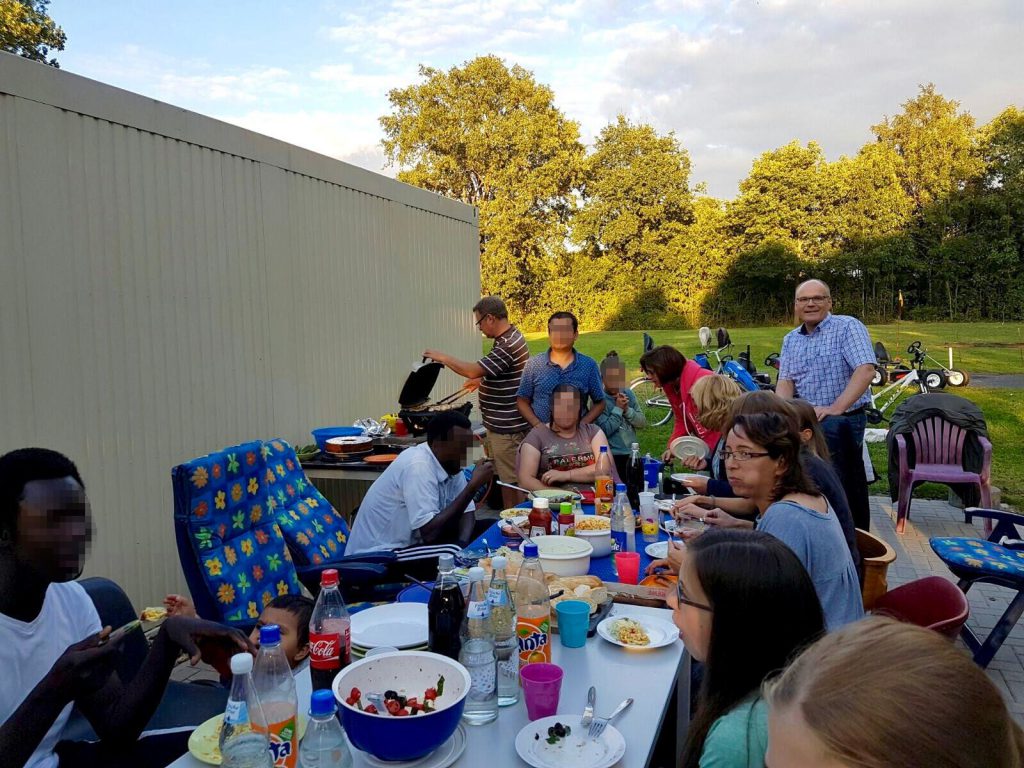 volunteers, organizes a wide range of help for the refugees.
Maps of Essenrode and the surrounding villages are produced in German, English and Arabic. Bus routes and signs for supermarkets, doctors and pharmacies, and civic buildings are included to help orientate the refugees.
Escort and shopping assistance
Several times a week, a pool of about a dozen drivers provides transport and help with shopping, doctor's appointments and visits to the authorities.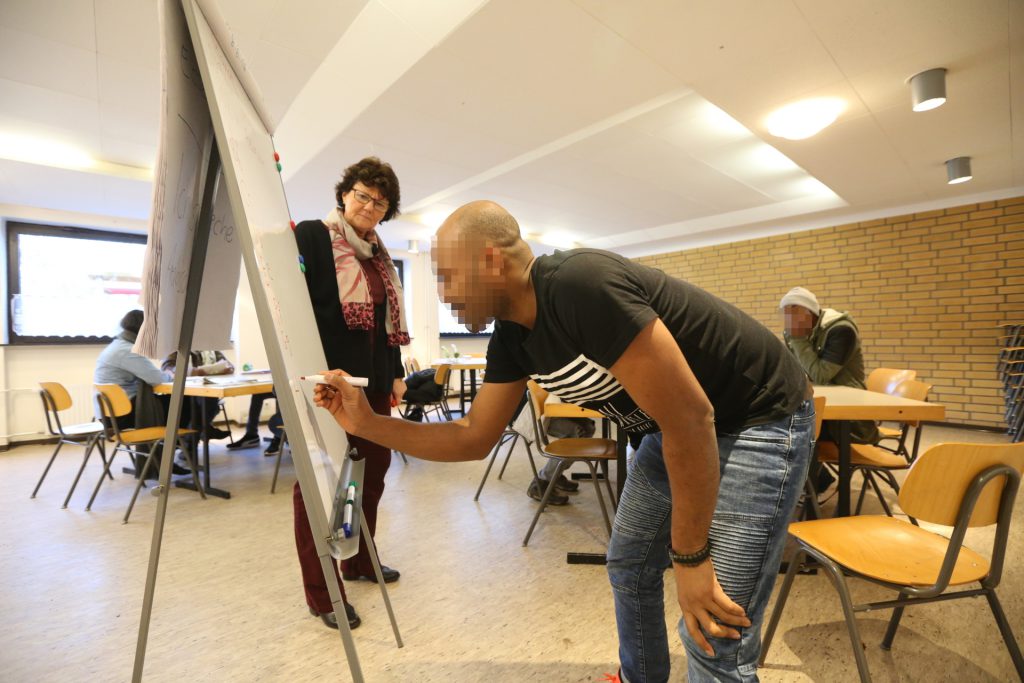 The commitment of volunteer teachers of German is particularly high. Over a period of eighteen months, two-hour teaching sessions were held four times a week in the village community centre and vicarage to help the Sudanese with their first steps in the German language. Apart from the practical benefits, this fosters good friendly relations. This commitment is recognized in the summer of 2017
with the Braunschweiger Zeitung's "Joint Award" for exceptional volunteer work.
Recreation and Employment
The Sudanese men and inhabitans of Essenrode do not know each other. The many volunteers know that getting to know each other and integrating the newcomers into the community is best achieved by involving everyone in the community. This is done very well through, for example, sport, music, games and common interests. Numerous joint activities and excursions are organized. Visits to museums, the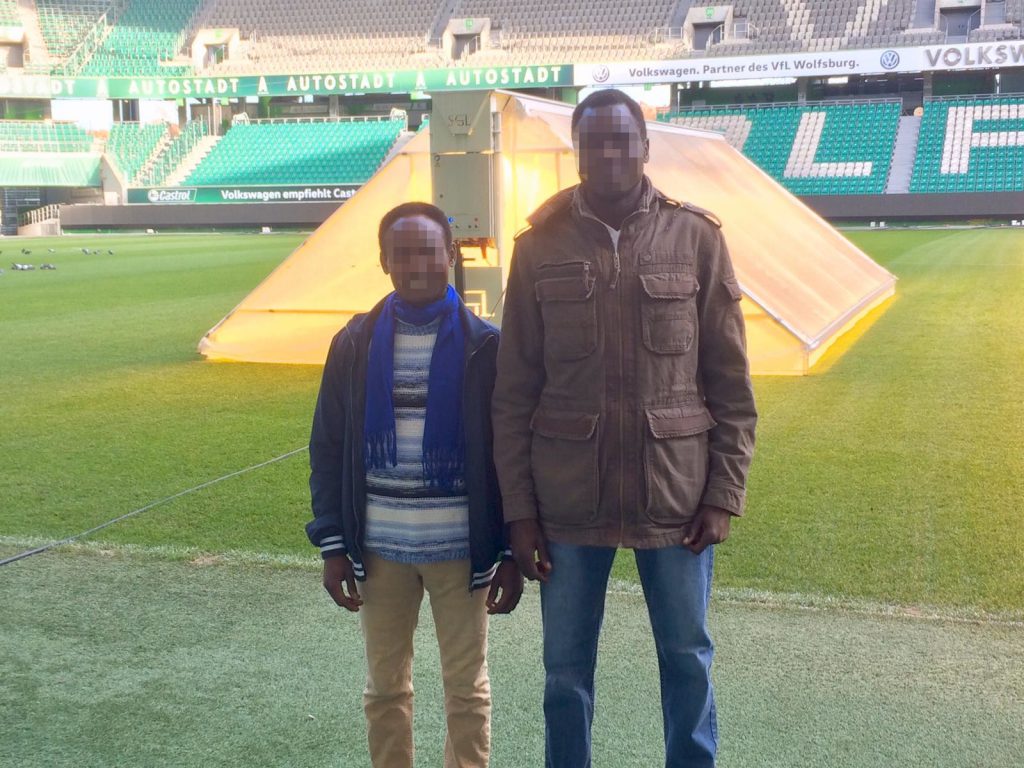 Volkswagen Arena in Wolfsburg, joint cycling tours and much more are on the program.
In October 2017, the Sudanese refugees have to move to Lehre, because the contract with the container park terminates at the end in October. For the citizens' association of Essenrode with its many volunteers, this brings to an end their help to the refugees. Many volunteers remain in contact with the young Sudanese through personal contact and continue to help them individually. Others play a continuing active role in the association "Welcome to town Lehre", which helps refugees.
The Essenrode citizens' association looks back with great joy on its almost two years of help. During this time, the people of Essenrode have shown themselves to be very hospitable, helpful and open.
For the Sudanese, their time in Essenrode finishes at the end of October 2017. During their stay they have met many people and received a lot of help. This cooperation has greatly enriched the people of Essenrode, and they can be proud of their achievement. Source: https://www.buergerverein-essenrode.de/index.php/essenrode-hilft; Photos:Bürgerverein Essenrode e.V.

Seventy-five years ago, the people of Essenrode proved that integration can succeed. In 2016, the villagers showed in an exemplary manner how important it is, especially today, to take care of people in need in a humane way and to help them.

The chapter of the horror of flight and expulsion, of losing one's homeland, of arriving in a new place and of how integration can succeed, wounds can heal and roots can grow again through openness and dedication, continues to be written every day.